Easy garter stitch slippers knit flat and seamed. Includes instructions for pompoms. There is no specific yarn called out for in the pattern, any worsted weight will do. It can be used single or doubled. Using a double strand of worsted weight is recommended by the author.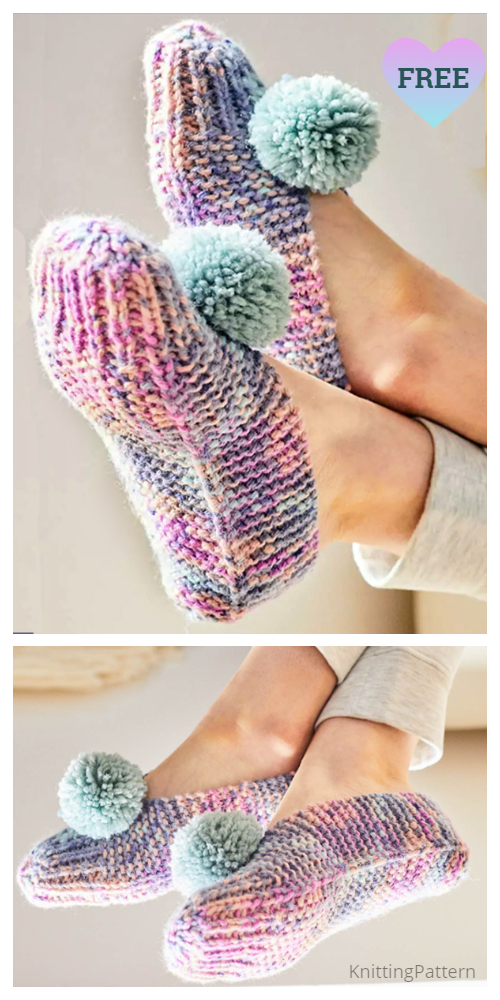 Click the link below for the FREE knitting pattern: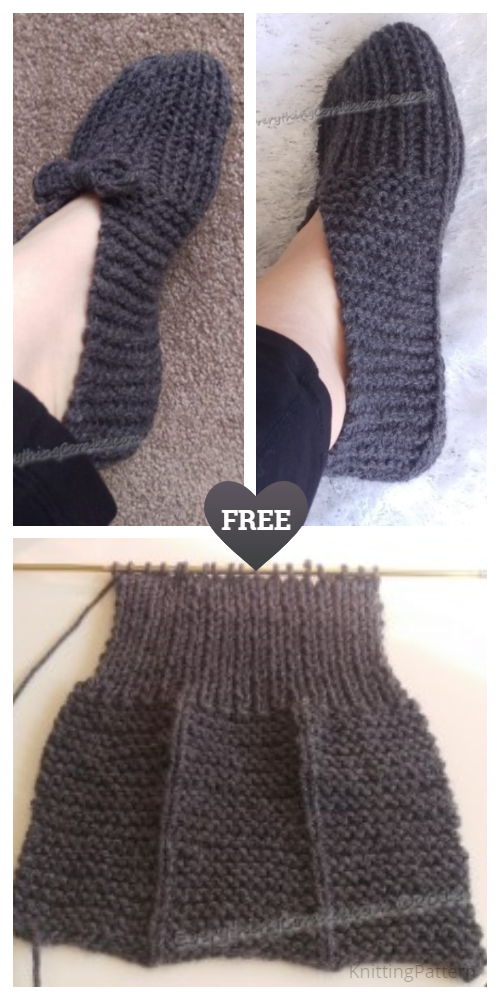 Click the link below for the FREE knitting pattern:
The link may not work, here is the written pattern and Video tutorial:
Abbreviations: K, k = knit, P, p = purl, K2tog = knit 2 stitches together
Yarn:  There are many variations for yarn and you'll need about 200 – 300 yards. So for worsted weight yarn you'll need to hold 2 strands together as one.  For super thick yarn you'll only knit with one strand and the thickness again should be (6-Super Bulky) 
Needles:  For worsted weight yarn holding two strands together use Size 9 (5.5mm), for Lion Brand Wool Ease Thick & Quick use size US 11 (8mm)
Cast on 27 (29, 35, 41)/(S,M,L,XL) sts with your preferred cast on.  I used the long tail. 
Row 1: Knit
Row 2: K9 (9, 11, 13), purl 1, k7 (9, 11, 13), p1, k9 (9, 11, 13)
Repeat rows 1 and 2 until you have 13 (15, 17, 19) garter ridges on the right side of your work or until your desired length. If you need more or less rows by all means work the slipper according to your size. It's very easily adjusted.
Please note: Keep in mind that you're knitting the length of your slipper so you will want the length to be approximately 2 (2.5, 2.5, 2.5) inches less than your actual foot size.
This gives you 2 – 2.5 inches to knit the toe portion of your slipper.
End on a 2nd row.
Shape Toe
Row 1: P1, *K1, P1, repeat from * across row
Row 2: K1, *P1, K1, repeat from * across row
Repeat these 2 rows for 1.5 (2, 2, 2) inches ending on 2nd row
Decrease Row
K2tog across. If you have one extra stitch left just knit it. It will still work out just fine. Stitches remaining: 14 (15, 18, 21)
Next Row: Knit
2nd Decrease Row
K2tog across row.  If you have an extra stitch simply knit it.  You should have 7 (8, 9, 11) sts remaining.  Break yarn leaving about 12 inches of yarn.
When you've got all the stitches, pull as tightly as you can being careful not to break yarn. Once you've got the toe tightly secured, continue seaming up the toe portion using the whip stitch, Then go to the heel and seam the bottom of your slipper and you're done.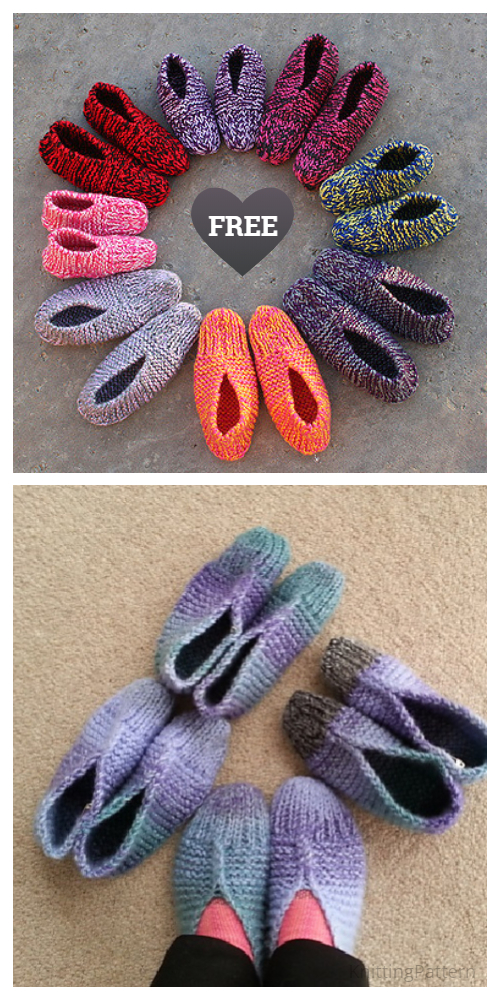 Click the link below for the FREE knitting pattern(Ravelry):